Signatures :

328
See below the full list of signatures
Mercedes BRESSO,

Member of the European Parliament (2014-2019)
"There is no surprise in saying that our planet needs concrete actions for its protection. Developing a clean and efficient public transport system in Europe, in our cities but also in the rural areas is very concrete and will create jobs while protecting our environment. This is why I strongly support the Mobility Manifesto!"
Karl-Heinz LAMBERTZ

, President of the European Committee of the Regions
"Sustainable urban mobility is the motor for a sustainable future. By allowing local and regional authorities to shape decisions, providing sound EU investment and working in partnership, cities can transform their transport systems and get Europe moving"
Marc TARABELLA

, Member of the European Parliament
"Climate change is the biggest issue of this century. It's not the time to chat anymore ; it's time to act! Public Transport is one of the main solutions to decrease the traffic emissions of public transport. European leaders, governements, institutions have to prioritise this way"
Wim VAN DE CAMP

, Member of the European Parliament (2014-2019)
"According to me, urban mobility should be the priority for the upcoming years. We need to make sure public transport succeeds in replacing individual cars, especially in the city centres. The future of urban mobility lies in automated and electric vehicles."
Bart STAES

, Member of the European Parliament (2014-2019)
"Climate action is the main issue the next term of Parliament. Transport is a key sector to decrease green house gas emissions. Only a strong public transport will contribute significantly to that goal."
Elżbieta Katarzyna ŁUKACIJEWSKA

, Member of the European Parliament
"By 2050, it is projected that 68% of the world population will live in urban areas. This means more dense traffic, higher levels of pollution, which is very likely to worsen citizens' quality of life and significantly reduce regional economic health. This is why we need to embrace the future of urban areas and think of a long term vision of more efficient and sustainable modes of transportation in cities. Public transport will play its essential role in the next legislative term – which is why all European Institutions should recognise it as their top priority for next legislature."
Christine REVAULT D'ALLONNES-BONNEFOY

, Member of the European Parliament (2014-2019)
"Pour lutter contre le réchauffement climatique et protéger notre planète, les transports sont un secteur clé. Ils doivent être des priorités législatives et politiques de la prochaine mandature du Parlement européen."
Mirela HOLY,

Candidate to the European elections 2019, Social Democratic Party, Croatia
"The transition from linear to circular economy is impossible without sustainable public transport. Emissions of greenhouse gases from transport in Croatia are at the very top of Croatian emissions. If we want a sustainable future, sustainable urban mobility and public transport must be a priority for the next EU legislature."
Jutta PAULUS,

Member of the European Parliament
"Climate action must be the biggest issue for the EU - and we can curb traffic emissions only with a strong public transport."

Pere CALVET

, UITP President
"Public transport is a concrete solution to provide urban population with healthier, more sustainable and accessible cities. EU leaders have to prioritise public transport by increasing funding and designing new mobility policies and establishing a new framework."

Mohamed MEZGHANI

, UITP Secretary General
"The UITP Manifesto gives the opportunity for candidates at the next European elections to commit to placing mobility on top of their agenda and show EU citizens that building urban areas focusing on the people is a true priority for them. Public transport is the most important asset to help reach that objective."
Karen VANCLUYSEN

, Secretary General, Polis Network
"While urban mobility is getting more digitalised and servitised, local authorities still have to solve severe societal challenges such as congestion, air and noise pollution, and safety. Cities and regions want to innovate and make use of technology to benefit all citizens. Polis members are stepping up to create the kind of mobility ecosystem and regulatory framework that favours healthy, clean and sustainable travel habits. We are happy to endorse the #MobilityOnTop campaign and call for public transport and active travel to be the backbone of mobility in cities."
Jean-Pierre FARANDOU

, Executive Chairman, Keolis Group
"Mobility is key in the daily life of our communities. It must be accessible, shared, integrated and contribute to improving the quality of life for citizens. The UITP manifesto is essential in advancing public policies towards shared mobility at European level."
Thierry MALLET

, CEO, Transdev Group
"The UITP Europe manifesto is part of a drive to make the European Union a lever for continuous improvement in public transport, and on the eve of the 2019 European elections, it is time to place mobility at the heart of the European political agenda."

Bogusław LIBERADZKI

, Member of the European Parliament
"The Transport Committee of the European Parliament was working hard the last 5 years in order to achieve a common European Transport space. I am convinced that after the election we will continue to do our utmost in order to make Europe the most efficient and most intelligent transport space in the World."

Alexandra Geese,

Member of the European Parliament
"Public transport needs to be the backbone of our future mobility. It is our chance to save the climate and live a better life in green cities with clean air."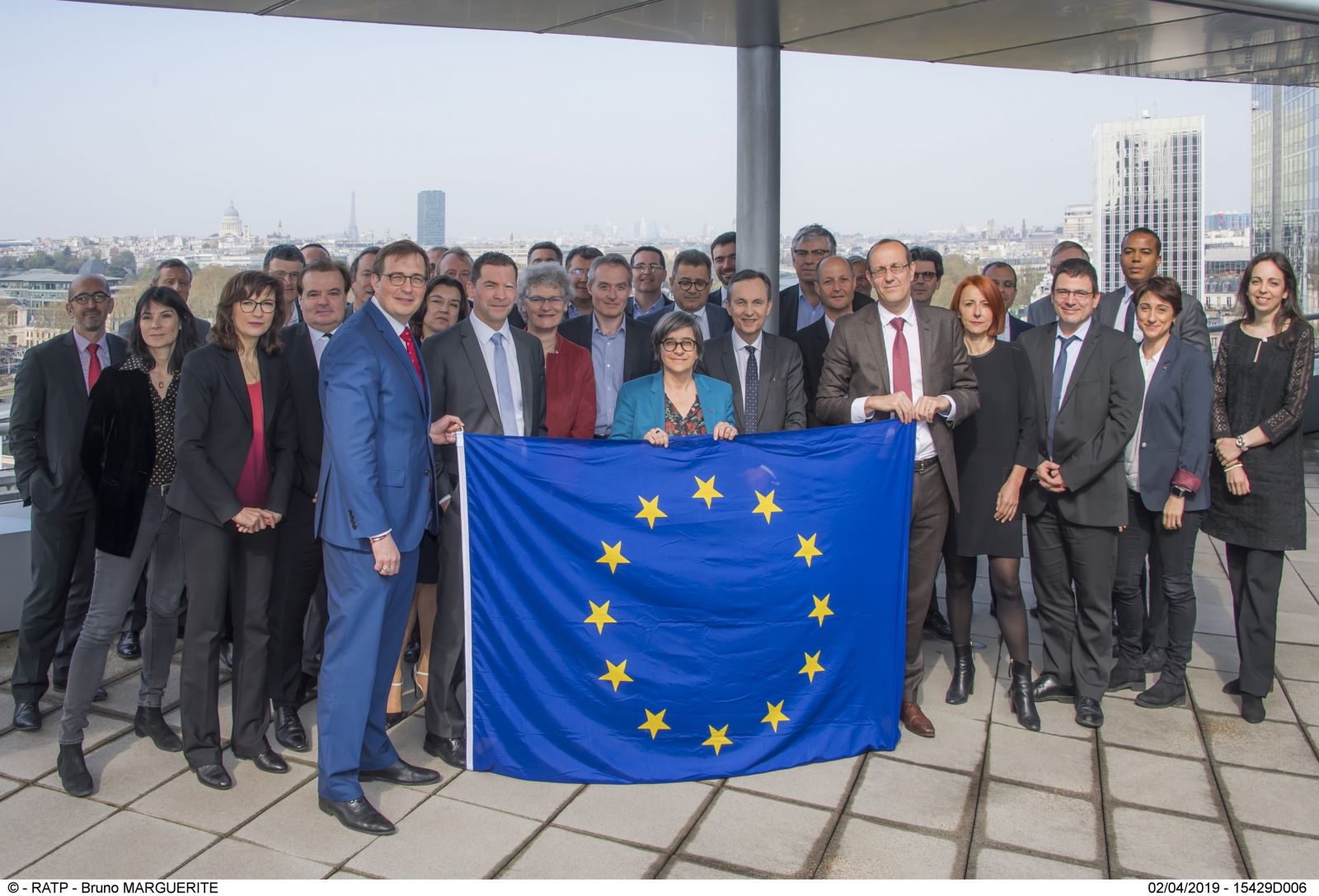 Signature of the UITP EU Manifesto by RATP Group's CEO and Top Management on Tuesday 2 April

2019


"Fight against pollution and climate change, innovation for our clients, social cohesion.
All of RATP Group's priorities, as worldwide partner of sustainable and smart cities, are the same as the EU's priorities for urban mobility!
RATP Group and its CEO Catherine Guillouard, together with all the Top Management, fully support UITP to place Mobility at the forefront of the European strategy and actions for

EU

citize

n

s!"
POLITICAL DECISION-MAKERS
Martina ANDERSON, Member of the European Parliament
Rasmus ANDRESEN, Member of the European Parliament
Szymon ANDRZEJEWSKI, Member of Regional Council, Gdánsk, Poland
Marc ANGEL, MP Member of Parliament and City Councillor Luxembourg City, Luxembourg
Theodoros ANTONIU AVVAS, Mayor Mesa Yitonia Municipality, Cyprus
Clotilde ARMAND, Member of the European Parliament
Christine ARRIGHI, Candidate to the European elections 2019, Europe Écologie - Les Verts (EELV), France
George BACH, Member of the European Parliament (2014-2019)
Martin BAXA, Mayor, City of Plzen, Czech Republic
Abdallah BENBETKA, Candidate to the European elections 2019, Europe Écologie - Les Verts (EELV), France
Brando BENIFEI, Member of the European Parliament
Attila BENEDEK, Transport Policy Adviser, European Parliament
Davor BERNARDIĆ, President of the Social Democratic Party of Croatia, Croatia
Izaskun BILBAO DARANDICA, Member of the European Parliament
Leyla BINICI, Candidate to the European elections 2019, Europe Écologie - Les Verts (EELV), France
Gabriele BISCHOFF, Member of the European Parliament
Michael BLOSS, Member of the European Parliament
Csaba BORBOLY, President, Harghita County Council, Romania
Antoine BORG, Candidate to the European elections, Brain, not Ego, Malta
Sophie BÖRNER, Candidate to the European elections 2019, Europe Écologie - Les Verts (EELV), France
Claude BOULANGER, Candidate to the European elections 2019, Europe Écologie - Les Verts (EELV), France
Lynn BOYLAN, Member of the European Parliament (2014-2019)
Mercedes BRESSO, Member of the European Parliament (2014-2019)
Patrick BREYER, Member of the European Parliament
Morgan BRIAND, Candidate to the European elections 2019, Europe Écologie - Les Verts (EELV), France
Saskia BRICMONT, Member of the European Parliament
Reinhard BUETIKOFER, Member of the European Parliament
Sophie BUSSIERE, Candidate to the European elections 2019, Europe Écologie - Les Verts (EELV), France
Deniz BUTROS, Candidate to the European elections 2019, Vänsterpartiet, Sweden
Leyla CALISKAN, Candidate to the European elections 2019 , Groen, Belgium
Damien CAREME, Member of the European Parliament
Matt CARTHY, Member of the European Parliament
Sylvie CASSOU SCHOTTE, Candidate to the European elections 2019, Europe Écologie - Les Verts (EELV), France
Anna CAVAZZINI, Member of the European Parliament
Françoise COUTANT, Candidate to the European elections 2019, Europe Écologie - Les Verts (EELV), France
Amandine CRAMBES, Candidate to the European elections 2019, Europe Écologie - Les Verts (EELV), France
Ciarán CUFFE, Member of the European Parliament
Miriam DALLI, Member of the European Parliament
Karima DELLI, Member of the European Parliament – Chair of the Transport and Tourism Committee
Olivier DE SCHUTTER, Candidate to the European elections 2019, Ecolo, Belgium
Petra DE SUTTER, Member of the European Parliament
Nicole DEWANDRE, Candidate to the European elections 2019, Ecolo, Belgium
Magdalena DŁUGOSZ, Candidate to the European elections 2019, Lewica Razem, Poland
Grégory DOUCET, Candidate to the European elections, Europe Écologie - Les Verts (EELV) 2019, France
Anton EBSEN, Candidate to the European elections 2019, Radikale Venstre, Denmark
Bas EICKHOUT, Member of the European Parliament
Cyrus ENGERER, Candidate to the European elections 2019, Partit Laburista, Malta
Monika FALEJ, Candidate to the European elections 2019, Wiosna, Poland
Jean-Laurent FELIZIA, Candidate to the European elections 2019, Europe Écologie - Les Verts (EELV), France
Ján FERENČÁK, Mayor, Kežmarok City, Slovakia
Mary FREEHIL, Councillor, Dublin City Council, Ireland
Daniel FREUND, Member of the European Parliament
Alexandra GEESE, Member of the European Parliament
Sven GIEGOLD, Member of the European Parliament
Hanna GILL-PIĄTEK, Candidate to the European elections 2019, Wiosna, Poland
Joanne GOEBBELS, Candidate to the European elections 2019, LSAP (S&D), Luxembourg
Karoline GRASWANDER-HAINZ, Member of the European Parliament (2014-2019)
Benoit HELLINGS, First Alderman in charge of Climate and Sports, City of Brussels, Belgium
Karl HENRIKSSON, Deputy Mayor, Huddinge Municipality, Sweden
Catherine HERVIEU, Candidate to the European elections 2019, Europe Écologie - Les Verts (EELV), France
Laura HIDALGO, Candidate to the European elections 2019, Mouvement réformateur, Belgium
Arnout HOEKSTRA, Lead Candidate to the European elections 2019, Dutch Socialist Party (SP), Netherlands
Jens HOLCK, Candidate to the European elections 2019, European Greens/Socialistisk Folkeparti, Denmark
Mirela HOLY, Candidate to the European elections 2019, Social Democratic Party, Croatia
Basilio HORTA, President, Camara Municipal de Sintra, Portugal
Marie-Neige HOUCHARD, Candidate to the European elections 2019, Europe Écologie - Les Verts (EELV), France
Yannick JADOT, Member of the European Parliament
Sibylle JANNEKEYN, Candidate to the European elections 2019, Europe Écologie - Les Verts (EELV), France
Christine JUSTE, Candidate to the European elections 2019, Europe Écologie - Les Verts (EELV), France
Petra KAMMEREVERT, Member of the European Parliament
Ska KELLER, Co-President Greens/EFA Group in the European Parliament
Arndt KOHN, Member of the European Parliament (2014-2019)
Dorota KOSZAL, Candidate to the European elections 2019, Patia Razem, Poland
Merja KYLLÖNEN, Member of the European Parliament (2014-2019)
Julie LAERNOES, Candidate to the European elections 2019, Europe Écologie - Les Verts (EELV), France
William LAJEANNE, Candidate to the European elections 2019, Europe Écologie - Les Verts (EELV), France
Philippe LAMBERTS, Co-President Greens/EFA Group in the European Parliament
Karl-Heinz LAMBERTZ, President, European Committee of the Regions, Belgium
Christian LAMMENS, Candidate to the European elections 2019, Europe Écologie - Les Verts (EELV), France
Stéphanie LEPCZYNSKI, Candidate to the European elections 2019, Ecolo, Belgium
Olivier LONGEON, Candidate to the European elections 2019, Europe Écologie - Les Verts (EELV), France
Jorge LUYTS, Candidate to the European elections 2019, Groen, Belgium
Bogusław LIBERADZKI, Member of the European Parliament
Elżbieta Katarzyna ŁUKACIJEWSKA, Member of the European Parliament
Paul MAGNETTE, Lead Candidate to the European elections 2019, Socialist Party and Mayor of Charleroi, Belgium
Anna MAILLARD, Candidate to the European elections 2019, Europe Écologie - Les Verts (EELV), France
Coralie MANTION, Candidate to the European elections 2019, Europe Écologie - Les Verts (EELV), France
Erik MARQUARDT, Member of the European Parliament
Nicolas MARTIN, Mayor, City of Mons, Belgium
Sara MATTHIEU, Candidate to the European elections 2019, Groen, Belgium
Karen MELCHIOR, Member of the European Parliament
Ana MIRANDA, Member of the European Parliament (2014-2019)
François NICOLAS, Candidate to the European elections 2019, Europe Écologie - Les Verts (EELV), France
Niklas NIENAß, Candidate to the European elections 2019, Green Party, Germany
Liadh NÍ RIADA, Member of the European Parliament (2014-2019)
Maria NOICHL, Member of the European Parliament
Grace O'SULLIVAN, Senator, Green Party, Ireland
Jan OVELGÖNNE, Candidate to the European elections 2019, Green Party, Germany
Kim PAGELS, Candidate to the European European 2019, Danish Social-Liberal Party, Denmark
Nelson PALIS-NIERMANN, Candidate to the European elections 2019, Europe Écologie - Les Verts (EELV), France
Jutta PAULUS, Member of the European Parliament
Rui PEREIRA, Vice President, Camara Municipal de Sintra, Portugal
Sirpa PIETIKÄINEN, Member of the European Parliament
Mette POULSEN, Candidate to the European elections 2019, Social Democratic Party, Denmark
Birgit RAAB, Candidate to the European elections 2019, Green Party, Germany
Daphné RAVENEAU, City Councillor, France
Terry REINTKE, Member of the European Parliament
Naomi REINUTZ URSOI, Candidate to the European elections 2019, Save Romania Union, Romania
Christine REVAULT D'ALLONNES-BONNEFOY, Member of the European Parliament (2014-2019)
Geert RITSEMA, Candidate to the European elections 2019, Dutch Socialist Party (SP), Netherlands
Martin SACZEK, Candidate to the European elections 2019, Lewica Razem, Poland
Beytula SALI, Mayor, Samuil Municipality, Bulgaria
Sofia SAKORAFA, Member of the European Parliament
Stéphanie SCAILQUIN, Aderwoman in charge of Mobility, City of Namur, Belgium
Troels Stru SCHMIDT, Candidate to the European elections 2019, European Greens/Socialistisk Folkeparti, Denmark
Cristina SCHWARZWALD, Candidate to the European elections 2019, Green Party, Germany
Konstantionos SIMITSIS, Member of the City Council, Municipality of Kavala, Greece
Pascal SMET, Minister of Mobility and Public Works, Brussels Capital Region, Belgium
Jordi SOLÉ, Member of the European Parliament (2014-2019)
Bart STAES, Member of the European Parliament (2014-2019)
Ivan STEFANEC, Member of the European Parliament
Marc TARABELLA, Member of the European Parliament
François THIOLLET, Candidate to the European elections 2019, Europe Écologie - Les Verts (EELV), France
Marie TOUSSAINT, Candidate to the European elections 2019, Europe Écologie - Les Verts (EELV), France
Andrea TURČANOVÁ, Mayor, City of the Prešov, Slovakia
Istvan UJHELYI, MEP, Vice-Chair of the TRAN Committee, European Parliament
Martyna URBAŃCZYK, Candidate to the European elections 2019, Lewica Razem, Poland
Ernest URTASUN, Member of the European Parliament
Robert VAN ASTEN, Alderman, City of Den Haag, Netherlands
Wim VAN DE CAMP, Member of the European Parliament (2014-2019)
Herlinde VANHOOYDONCK, Candidate to the European elections 2019, Groen, Belgium
Dirk VANSINTJAN, Candidate to the European elections 2019, Groen, Belgium
Jeroni VERGEER, Candidate to the European elections 2019, GroenLinks, Netherlands
Melanie VOGEL, Political Advisor, European Parliament
Tiemo WÖLKEN, Member of the European Parliament
Salima YENBOU, Member of the European Parliament
Jaana YLITALO, Candidate to the European elections 2019, SDP, Finland
Milan ZVER, Member of the European Parliament
FRIENDS OF PUBLIC TRANSPORT
Lotta ALHONNORO, Researcher, University of Vaasa, Finland
João ALMEIDA, CBO, Card4B Systems, Portugal
Niklas ANKARCRONA, Chairman, Clean Motion, Sweden
Hans ARBY, CEO, UbiGo Innovation, Sweden
Josep ARMENGOL, Technical Area Director, TMB, Spain
Daði ÁSLAUGARSON, Head of IT, Strætó bs., Iceland
Thomas AVANZATA, Senior Director, UITP Europe
Wojciech BARTELSKI, CEO, Warsaw Tramways, Poland
Anna Lisa BASSI, Head of Public Relations and International Affairs, ATM Milan - Azienda Transporti Milanesi, Italy
Valérie BEAUDOUIN, Directrice du département Législation et Affaires Européennes, Union des Transports Publics et Ferroviaires, France
Henrik BEHRENS, Group Chief Development Officer, Transdev Group, France
Gianluigi BERRONE, Transport Planning Officer, Piemonte Region, Italy
Massimo BETTARELLO, President, ATV Srl, Italy
Stuart BLEST, QA Manager, Truck Align London Ltd / Compak Ramps, United Kingdom
Patryk BIAŁAS, President of the Board, Stowarzyszenie BoMiasto, Poland
Joan M BIGAS, Director of Mobility and Transport, Barcelona Metropolitan Area (AMB), Spain
Fabrizio BIORA, Solution Manager Public Transport, Swarco AG, Austria
Lorena BISIGHINI, Assistant, Azienda Trasporti Milanesi SpA, Italy
Bob BOUHUIJS, Director automotive, Heliox, Netherlands
Esther BRAVO, Programme Manager, Shift2Rail, Belgium
Javier CALLEJA, CEO, Solaris Bus & Coach, Poland
Guillermo CAMPOAMOR, CEO, Meep, Spain
Gregorio CAPPUCCINO, CEO, Calbatt srl, Italy
Pedro CARDENAS, eBus Director, Tam Europe, Slovenia
Bruno CHARRADE, CEO International, Transdev, France
Emmanouil CHRYSIS, Administrative Accountant, Region of South Aegan, Greece
Christelle CLAIRVILLE, Marketing b2b, Karos, France
Ray COYNE, CEO, Bus Átha Cliath - Dublin Bus, Ireland
Julien DAMON, Buyer, Alstom, France
Roman DANKO, Director of Transport, Public Transport Company Košice, Slovakia
Jean-Luc DEFLANDRE, Managing Director, ICD-100 A Division of ISCA Group, Belgium
Thierry DEFLANDRE, President, Zen Car, Belgium
Geert DE LEEUW, Lecturer Build Environment | Mobility, Breda University of Applied Sciences, Netherlands
Pierre DELRAT, Business Development Director, Actia, France
Dominique DESCOLAS, CEO, DigiMobee, France
Klaus DIETRICH, Marketing & Sales Manager, Linz Linien GmbH, Austria
Kim DOHERTY, Member of the Public, United Kingdom
Christian DRAKULIC, National Delegate H2020 Transport, BMVIT, Austria
Reidun ECKHOFF, Advisor, Public Transport Norway, Norway
Mauricio ESGUERRA, CEO, MAGMENT US, Germany
Henrik FALK, CEO, Hamburger Hochbahn AG, Germany
Jean-Pierre FARANDOU, Executive Chairmain, Keolis Group, France
Claude FAUCHER, Délégué Général, Union des Transports Publics et Ferroviaires, France
Mario FAVA, President, Local Councils' Association, Malta
Bonnie FENTON, Board Chair, German Cyclists' Federation - state of Bremen, Germany
Alvaro FERNÁNDEZ HEREDIA, CEO, Empresa Municipal de Transporte Madrid, Spain
David FERNÁNDEZ, Mobility Consultant, Bax & Company, Spain
Göran FOLKESSON, CEO, Clean Motion, Sweden
Jen FONGERS, Director, Fongers Folio B.V., Netherlands
Ricard FONT HEREU, President, Ferrocarrils Generalitat Catalunya, Spain
Mauricio ESGUERRA, CEO, MAGMENT US, Germany
Henrik FALK, CEO, Hamburger Hochbahn AG, Germany
Tiago FARIAS, President, CARRIS - Lisbon Bus and Tram Municipal Operator, Portugal
Jean-Pierre FARANDOU, Executive Chairmain, Keolis Group, France
Claude FAUCHER, Délégué Général, Union des Transports Publics et Ferroviaires, France
Mario FAVA, President, Local Councils' Association, Malta
Bonnie FENTON, Board Chair, German Cyclists' Federation - state of Bremen, Germany
Alvaro FERNÁNDEZ HEREDIA, CEO, Empresa Municipal de Transporte Madrid, Spain
David FERNÁNDEZ, Mobility Consultant, Bax & Company, Spain
Göran FOLKESSON, CEO, Clean Motion, Sweden
Jen FONGERS, Director, Fongers Folio B.V., Netherlands
Ricard FONT HEREU, President, Ferrocarrils Generalitat Catalunya, Spain
Arne FREDHEIM, Managing Director, Hedmark Traffik FKF, Norway
Stephan FROMM, Head of Innovation Management, Verkehrsautomatisierung Berlin GmbH, Germany
Dario GAMBARÈ, HR, H3 srl, Italy
Daniel GARCÍA PLATERO, Transportation Planner, brenner BERNARD ingenieure, Germany
Christina GERLACH, Physician, Germany
Guillaume GIBON, CEO, CITIO, France
Geoffroy GIRAUX, Directeur de Projet, Keolis, France
Camila GONZALEZ, Project Manager, Current Ecological, Spain
Catherine GUILLOUARD, CEO, RATP Group, France
Feyzullah GÜNDOĞDU, Managing Director, Kayseri Transport, Turkey
Gergely HAGYMÁSI, Senior economist, BKV, Hungary
Inge HARTKOORN, Projectworker Public transport and infrastructure, Metropoolregio Rotterdam Den Haag, Netherlands
Oda HASSEPAß, Sprecherin, Germany
Christine HASSOUN, Dissemination advisor, UIC, France
Coco HEGER-MEHNERT, Founder, Women in Mobility, Germany
Benjamin HEPE, Employee, BASF, Germany
Jesus HERRERO, Secretary General, ATUC, Spain
Matthias HOFFMANN, Future Researcher Mobility, Robert Bosch GmbH, Germany
Simon HOLLEVOET, Assistant, LB, Belgium
Jari HONKONEN, Project Manager, Forum Virium Helsinki, Finland
Ursa HRIBERNIK, Head of Mobility Services, LIT Transit ltd, Slovenia
Joanne HUTCHINSON, Marketing Manager, ACT, a Fujitsu company, United Kingdom
Mihai IACOVICI, Project Manager, Intercomunitară pentru Transport Public București Ilfov (ADTPBI), Romania
Martin IN DER BEEK, Technischer Geschäftsführer (CEO), Rhein-Neckar-Verkehr GmbH (rnv), Germany
Gabriel IZQUIERDO, Planning & Scheduling Director, EMT Valencia, Spain
Arjen JAARSMA, Public Transport Expert, Modasti Consulting BV, Netherlands
Matyas JANGEL, Head of strategic department, BKV, Hungary
Charlotte JURUS, Public Affairs Officer, Spacetrain, France
Wouter KAMPHUIS, Consultant, Municipality of Rotterdam, Netherlands
Dorota KACPRZYK, President of the Board, Polish Chamber of Urban Transport, Poland
Zbigniew KARACZUN, Expert, Climate Coalition, Poland
Andreas KERBER, Member of the Board, BOGESTRA, Germany
Roger KESTELOOT, CEO, De Lijn, Belgium
Aleksander KIERECKI, Editor in Chief, TransInfo.pl - portal of public transport, Poland
Markus KLEHR, Senior Manager, Verkehrsbetriebe Karlsruhe, Germany
Michal KRAUS, CEO, PMDP, a.s., Czech Republic
Joanna KRAWCZYK, Project Coordinator, Polish Green Network, Poland
Eva KREIENKAMP, Managing Director, Mainzer Verkehrsgesellschaft, Germany
Ondřej KRUTÍLEK, EU legislation analyst, Pravý břeh - Institut Petra Fialy, Czech Republic
Kristian LANS, Communication Strategist, Västtrafik AB, Sweden
Pierre-Olivier LEBEAU, Transportation planning advisor, Autorité régionale de transport métropolitaine de Montréal, Canada
Anne LEEMANS, Secretary General, Yellow design Foundation, Belgium
Gaël LE HEN, Senior Expert (Innovation Process & Future Mobility), Robert Bosch GmbH, Germany
Annarita LESERRI, EU Project Manager, Enide, Spain
Sylvie LESUEUR, Mobility Entrepreneur, Lesueur and Co, United States
Michael LICHTENEGGER, Senior Strategist, Upstream next level mobility GmbH, Austria
Alexandre LOUREIRO, Architect, Portugal
Nicole LOUVAT, Business Development Director, Wizway Solutions, France
Thierry MALLET, CEO, Transdev, France
Khaled MANSOUR, Group strategist and EU funded project lead, Bombardier transportation, Germany
Massimo MARCIANI, Chairperson, FIT Consulting, Italy
Jorge MARTÍ, Ingeniero Proyectos BT/EM, TMB, Spain
Luca MASNATA, ITS Consultant, Italy
Laurent MAZILLE, Public Affairs Director, Transdev Group, france
Nikola MEDIMOREC, Senior Researcher, Partnership on Sustainable, Low Carbon Transport, Belgium
Mathieu MENET, Head of Innovation, Transports public de la région Lausannoise, Switzerland
Dwight MENGEL, MaaS/Transporation Planner, Tompkins County, United States
Milos MLADENOVIC, Assistant Professor, Aalto University, Finland
Yasmin MICHEL, Communications, ioki GmbG, Germany
Milen MILEV, Chariot Motors, Bulgaria
Thomas MÜGGE, Executive Director, Donau-Iller-Nahverkehrsverbund, Germany
Nataša NAUMOVIĆ, Senior Advisor at Sustainable Mobility and Transport Policy Service, Ministry for Infrastructure, Slovenia
Félix NGY, Signalling Project Manager, Hitachi Rail, France
Meike NIEDBAL, Head of Smart City Deutsche Bahn, Germany
Noshin OMAR, CEO, ABEE Group, Belgium
Panagiotis PAPAIOANNOU, Professor, Aristotle University of Thessaloniki, Greece
Roberto PALACIN, Senior Lecturer, Newcastle University, United Kingdom
Michael PELLOT, Director of Innovation, TMB, Spain
Nuno PEREIRA, Head of General and International Affairs, Metropolitano de Lisboa, E.P.E., Portugal
Vincent PEREMANS, Administrateur Général, Opérateur de transport de Wallonie, Belgium
Ignacio PEREZ-CASA, Director de Relaciones Institucionales, ALSA, Spain
Mata PERGEL, Business Manager Commuter trains, Stockholm Region, Sweden
Mika PERIVIITA, Director, City of Tampere, Regional Transport, Finland
Stefano PERSI, CEO, Mosaic Factor, Spain
Peter PERSTEL, Head of Rail Systems, ACstyria Mobilitätscluster GmbH, Austria
Konrad PULE, General Manager, Malta Public Transport, Malta
Manuel QUINTING, R&D Manager, INIT Group, Germany
Joao REBELO, Director, Metro do Porto, Portugal
Jose ROA, Director, Ioscoot (sharing mobility), Spain
Martin RÖHRLEEF, Head of Mobility Innovation, ÜSTRA Hannoversche Verkehrsbetriebe AG, Germany
Volker RÖSKE, Consultant for works counsel, Bureau for social research, Germany
Michael RÜFFER, CTO, Verkehrsgesellschaft Frankfurt (VGF), Germany
Domenico SCALFARO, Marketing & Communication specialist, ASSTRA, Italy
Gianni SCARFONE, President of Lombardy Board, ASSTRA Lombardia, Italy
Christoph SCHAAFFKAMP, Managing Director, KCW GmbH, Germany
Susanne SCHARWITZL, Controlling-Department, Vienna Lines - Wiener Linien, Austria
Christian SCHREYER, CEO North and Central Europe, France
Rodrigo SEÁRA, Student, University of Greenwich, United Kingdom
Gadys SHLASKY, CEO, GS Innovation, Israel
José SILVA RODRIGUES, Secretary General, Barraqueiro Group, Portugal
Tor Rune SKOGLUND, CEO, FourC, Norway
Marcel SLOOT, Project Manager PT, CROW, Netherlands
Minna SOININEN, Director, Finnish Public Transport Association, Finland
Frederic SOLÉ MONTOYA, General Manager, Masats, Spain
Juan Carlos SOSA, Consulting, Asociación Latinoamericana de Movilidad Sostenible - SIMUS, Colombia
Carlos SOUSA FERREIRA, Territorial Engineer, C M Lisboa, Portugal
Urszula STEFANOWICZ, Project Coordinator, Polish Ecological Club Mazovian Branch
Jon H. STORDRANGE, CEO, NHO Transport, Norway
Espen STRAND HENRIKSEN, Mobility Developer, Kolumbus, Norway
Kerstin STRAUBINGER, Comms, Siemens Mobility, Germany
Christopher SVEDER, Sales & Marketing, Clean Motion, Sweden
Joost SWINNEN, Senior Project Manager, De Lijn, Belgium
Jaanus TAMM, Project Manager, Tartu City Government, Estonia
Kay TEWES, CEO, geminiptc, Germany
Julio TIRONI, Director, Malta Public Transport, Malta
Stefano VALLANI, Marketing Manager, ATV Azienda Trasporti Verona, Italy
Herman VAN DER ZWAAN, Project Manager, Heliox B.V., Netherlands
Karen VANCLUYSEN, Secretary General, Polis Network, Belgium
Marc VANHOUTTE, Bus Fleet Manager, Transdev Corporate HQ, France
Johan VAN IEPEREN, Solution Director Public Transport & Sustainability, PTV Group, Germany
David VITEZY, Urban Transportation Expert and General Director, Hungarian Museum of Transport, Hungary
Marion VOLTEAU, Product Manager, SNCF, France
Stefan WEBER, New Mobility Enthusiast, Germany
Franz WEINTÖGL, CEO, GKB, Austria
Jonathan WOODS, CEO, Eukalypton, France
Robin WOODS, Director, RobinWorldWide, United Kingdomited Kingdom
Benny WUNDERLICH, Managing Director , Sasse Limited, United Kingdom
George YANNIS, Professor, National Technical University of Athens, Greece
Roman ZARZYCKY, Chairman of the Board, Plzeňské městské dopravní podniky a.s., Czech Republic
If you don't want your name to be displayed on the website, contact us at: europe(a)uitp.org